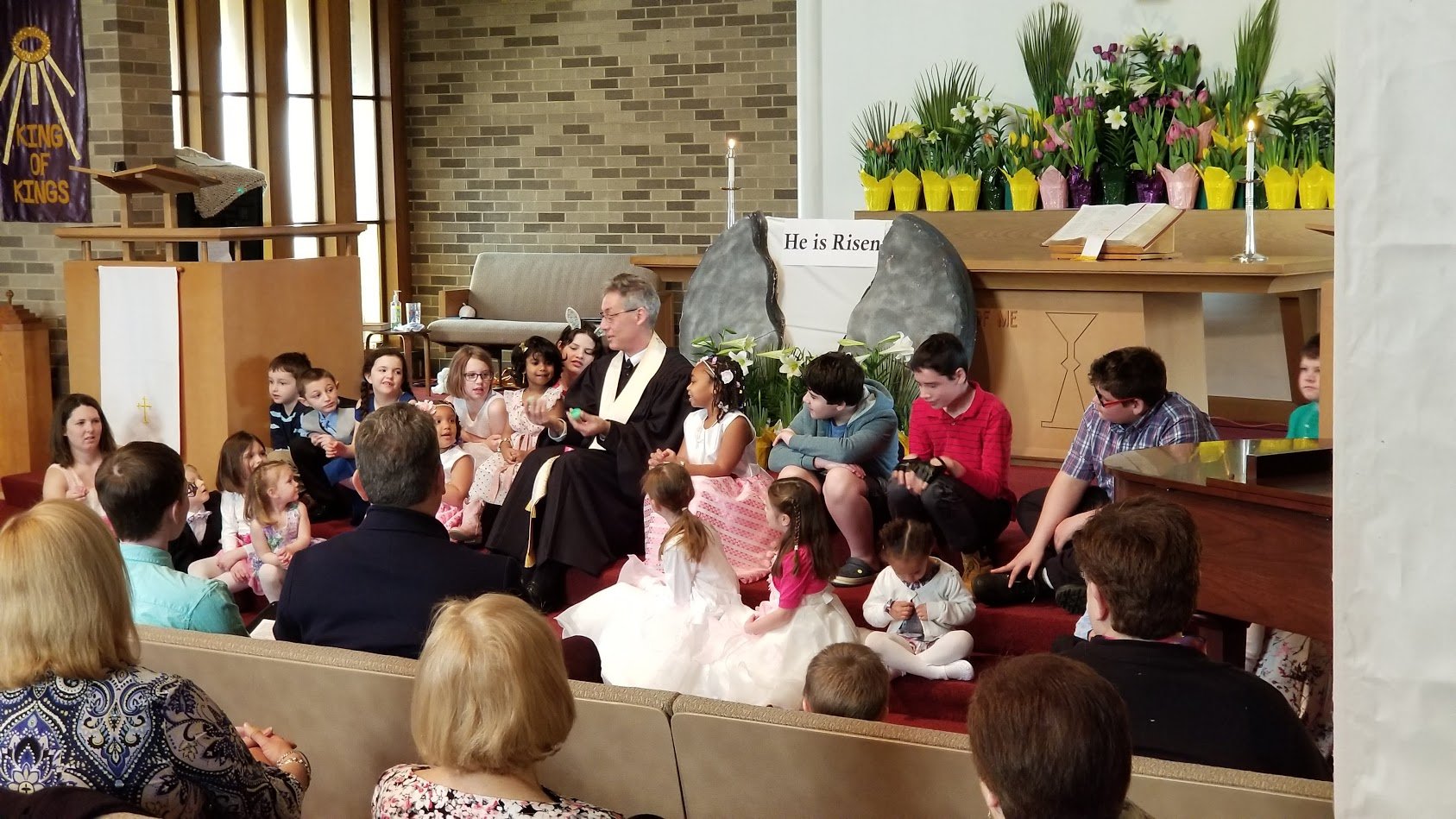 To Parents…
The Woodridge family would like to partner with you to help your children face the challenging obstacles in the world today from a Christian perspective.
Our hope is to encourage your children to make good decisions, create positive friendships and have a place to belong while encountering God, and discovering God's purpose for their lives.
Worship … Music … Mission & Service
Our vision:  a faith formation program for children and youth that nurtures their growing faith and personal relationship with God.
Our goal:  to integrate our children and youth into all aspects of church life, including worship, music and mission and service. 
On Sunday, the pastor and our children join together for an age-appropriate "Children's Message."
In our "Music Ministry," we draw upon the musical gifts of our young people and enjoy their talents in worship services, including a children's chimes choir.
On-going mission projects and collections are integrated into the Sunday School program.
Children and Youth Faith Formation
Nursery and on . . .
The Sunday school year is September through June.  Classes are arranged as follows:
Nursery:  6 weeks – 3 years  
Preschool:  Ages 3 – 5 
K – 3rdGrade
4thGrade
5th& 6th Grade Bible study
7th& 8th Grade 
Dedicated teachers prepare for each class and work together to engage our children and youth in the Christian faith in fun and age-appropriate ways.  Our curriculum is deeply rooted in the basics of the Christian faith and bible based.
If you haven't already registered for Sunday School, you may copy the attached form, fill it out and bring it on Sunday.
Nursery Care for Infants and Toddlers
We welcome parents with infants and toddlers, (birth to 3 years) in worship. Young children are provided with fun, age appropriate "activity bags" (bags with books and coloring and bags with quiet toys).
If you would prefer, please see our Sunday School Coordinator as the nursery is available at 10 am for any children under the age of 3, staffed by background-checked adult volunteers trained in Safe Church practices. Our pastor's office is also available, if a parent needs a quiet, more personal place to be with their child.
Our Junior Youth Group (grades 3 through 7) and Senior Youth Group (grades 8 through high school) offer young people age-appropriate opportunities to explore their faith and build fellowship. Fun events with kids from other churches, regular meetings, mission trips and other service projects help kids connect with their Christian community.
If you should wish your child to be baptized, we invite you to speak with our pastor.
During lent, our 1st and 2nd grade students are invited to participate in a Communion Education class.  This class starts the Sunday before Ash Wednesday and ends after Easter with a Communion Celebration Sunday.
The Christian Education committee has worked hard to find the right curriculum for our students.  The last two years, we have been using a different model of teaching called a 'Rotation model'.  We have adapted this model to accommodate our students.  Rotation for us means that we rotate our mode of teaching each week.  We start with a theme.  That theme may be dependent on the time of year for example, Lent or Advent.  We take that theme and teach that theme for 4-6 weeks.  In that 4-6 weeks, children will learn the theme in different ways.  There are 7 different modes:  Storytelling, Art, Games, Cooking, Spiritual Practices, Mission and Science.  We have found that this is a developmentally appropriate way for our students to learn.  This curriculum is for grades kindergarten to 6th grade.  Our 7th and 8th graders are using a curriculum that is more focused on modern day life.  It is very interactive and open for these teens to apply what we learn in the bible to how life is today.
The Woodridge Church is committed to creating safe environments for all ages within our church building and in all of our children and youth activities and classes.  Documentation may be found on the Safe Space Policy webpage.