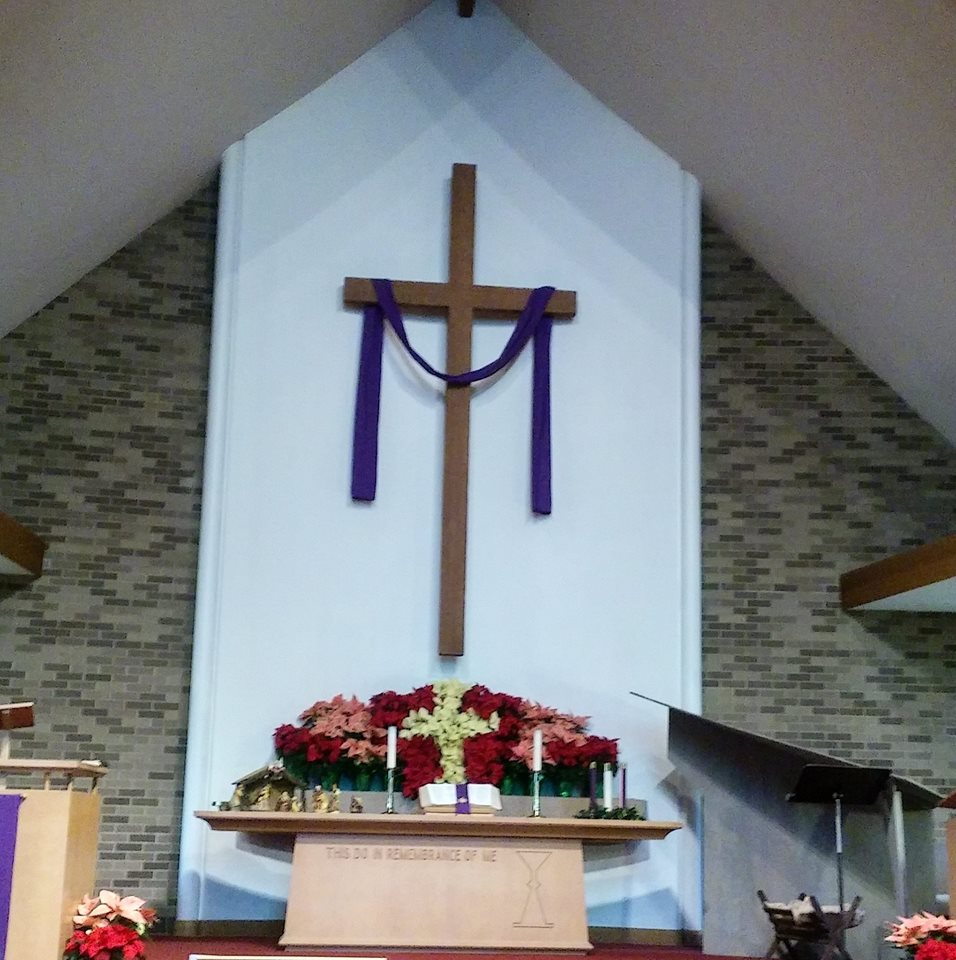 Make a joyful noise to the Lord, all the earth.  Worship the Lord with gladness; come into His presence with singing.  Psalm 100: 1, 2 
Frequently asked questions … 
What happens during a worship service?  We begin with music and prayer to gather ourselves to worship God.  When we don't have communion or a baptism, we invite the children to join the pastor up front for a "children's sermon."  Then we greet each other with the "peace of Christ" as the children and youth go to their Sunday school classes. 
The pastor's message is focused on a passage from the Bible and its application in our daily lives.  After some more music, we invite people to share prayer concerns and celebrations.  After the offering, we end with a hymn and prayer – and then many join for fellowship and refreshments.  Communion is celebrated the first Sunday each month.
Who attends the church?  We are a wonderful mix of ages and religious backgrounds who enjoy taking time out of our busy weeks to worship and thank God for all the blessings we receive.  We are a very open church to all of God's people.  Elsewhere on our website, you can read our "open and affirming statement" that proclaims our commitment to an inclusive welcome.  
What do you offer for children and youth?  We have a growing Sunday school to deepen the spiritual life of our children and youth.  There is a clean and safe nursery for infants and toddlers that has well-trained, experienced, background checked, and friendly teachers.  We also have a full Sunday school for ages 3 through 8th grade.  Outside of Sunday worship we have youth groups for 3rd – 6th grades and 7th grade and older.  And we have an annual confirmation program.  
Is helping others an important part of your church?  Yes, although we love being together as a community, we have a strong commitment to reaching out to our neighbors through local food pantries, homeless ministries and support for former inmates in the prison system.  We are also committed to ecumenical and interfaith activities and worship through our denomination and local associations.  
What denomination are you?  We are the United Church of Christ (UCC) which is a Protestant denomination in the Congregational tradition of New England.  We have been a congregation for over 70 years and have a strong commitment to hospitality towards  all people and an ecumenical spirit that seeks justice for all. 
How do I get there and where do I park?  
Woodridge is located across Reservoir Avenue and just north of the Garden City Shopping Center, near Harmony Masonic Lodge and Chelo's Restaurant on Reservoir Ave. (R.I. Route 2).  Enter the sanctuary from Woodridge Road.  A handicapped-accessible rest room is available.
GPS:  30 Jackson Road or 546 Budlong Road, Cranston, RI
There is plenty of parking in the lot between Jackson and Woodridge Roads, as well as on the street.